It's quite common for people & businesses to use email and social media as a replacement for holiday cards, but over time they have found they weren't making the same meaningful connection as physical cards used to do.
Think for yourselves, Scenario1 – Opening up your e-mail inbox and finding an online greeting which sits along a pile of other unopened emails. Scenario 2 – Picking up your physical mail, there's a bright envelope among the bills, and instantly your day is brighter. Which experience would you prefer?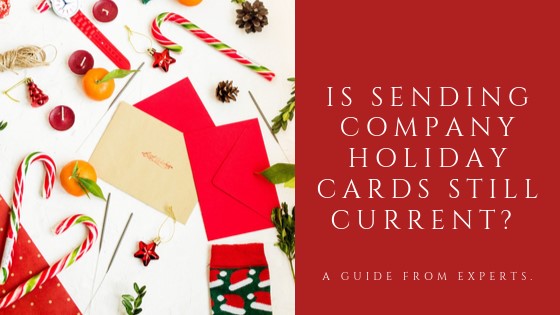 Not only the professional world but we as individuals still appreciate when someone sends us a holiday card. It feels like we are special if someone thought to send it to us. So sending out holiday cards will be a thing until that feeling exists in all of us. The very fact that someone or some organization has taken their time & effort to send a physical holiday greeting makes it more appealing than ever at a time when buzzing devices have us glued to their bright screens.
Here are some pointers to make your holiday cards more appealing, enjoyable and to stand the test of time.
Making your business greeting stand-out
If you have a business that has a established brand tone of voice (Tone of voice governs what you say in writing, and how you say it – the content and style of textual communications, in any setting and in any medium) and have set of branding elements like logo, patterns, color palates – already in place, your holiday cards should make use of these personalities that are unique to your brand.
Incorporating your brand identity in your holiday cards allow your target audience to instantly recognize your brand – and to easily stand-out from the rest of the brands whose greetings are just another generic wish of the season. To put it short, the value of the card should reflect your company's brand value.
We at SmartResolution offer holiday cards that you can order and customize online with your own verse and signatures.
Making corporate greeting more personalized
It is most often not a wise choice to send a generic card to everyone in your portfolio.
You should be able to segment your list accordingly with respect to their relationship with you or your business, for example sending the same content to your employees, clients or business partners wouldn't be the best choice that you could make, while you can spend a little more time to make it more personalized and meaningful towards each segment of your recipients.
You can also come up with a personalized note so that it leaves the impression that it is more festive than obligatory.
If your mailing list is short try to Include a relevant memory from your interaction in the past or achievements you were able to accomplish together to create a greeting that will surely stand the test of time and further strengthen your business bond.
Sending personalized greeting cards allows us a vast variety of sentiments that empower us to express our feelings to family, friends, customers, clients and employees.
A stitch in time
"A stitch in time saves nine" As the saying goes, all your meticulous efforts right from selecting the apt holiday card and segmenting your audience would end in vain if you haven't posted them on time. Remember – the excitement of receiving a holiday greeting can wane as the season comes to an end, so have them posted earlier to reach recipients in different locations  on time.
After all, When a card arrives in the mail, it shows someone put time and effort into choosing the design and sending it. There's a sense of gratitude and respect that is sent with a holiday greeting that many generations are still happy to receive.
We offer holiday cards that you can order and customize online with your own verse and signatures; including rich silver or gold foils, intricate embossing, special die-cut windows, and always include matching envelopes.  Feel free to check them out.