Sending a holiday business card is presumably an easy task which could turn into a nightmare if not planned and executed with care. Here are some noteworthy "Don'ts" on this process that you could avoid while executing your holiday card campaign.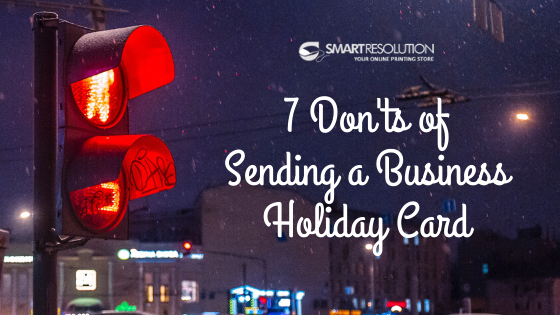 No one content to rule them all
When it comes to running a business, you will be dealing with a wide segment of people, say – your employees, partners, investors, all with whom you cherish a different kind of relationship and all these segments are genuinely valuable in their own way. As is often said, "Great businesses are built on great relationships" – You should be able to frame the content of your holiday card uniquely for these different segments, highlighting their relationship with your business. For instance, sending a generic "Thank you for your valuable business" card to your employees or investors will not be a wise decision, while you can spend a little more time to make it more personalized and meaningful towards each segment.
Classy sassy but not salesy
Spending a few extra dollars for the design or carefully curating the copy of the card with your brand voice will make your business stand-out and appear spirited. Those who go the extra mile are the ones who are remembered at the end. But never go overboard and engage in direct promotion of your business services with the holiday card. Doing this will make you look pushy and often end up draining all your efforts in forging a better customer relationship. Realize – why you are sending a holiday card in the first place, don't treat it as another marketing campaign.
Don't go unbranded and unnoticed
While you don't want to go all salesy on your holiday card, don't go unnoticed. Customers should know from whom the card is and should be able to relate to your business. Effective use of company logo, color pallets, shapes, and other branding elements associated with your business will help the recipients instantly recognize you and leave a lasting impact. We at SmartResolution know the vitality of branding and personalization, and offer a wide range of customization options for your holiday business cards that you can order online.
Don't be late to the party
A holiday card doesn't have to be sent out exactly around Christmas. Consider a Thanksgiving card if you're ready to take up the ball and make the first move. The point here is not to procrastinate too long to have your mail delivered in January when everyone has returned to work. It's like going to the party which has already ended. Just have the cards posted on time or even a little early but never late.
Don't go full-on faith and religion
We all know what the holidays are for, yet it has transcended beyond being a religious holiday to a time of celebration and togetherness for all kinds of communities – just as a good business that transcends borders and religious beliefs. To businesses that cater to people of all kinds, it could be nearly impossible to sort out who believes what, so it is a wise choice to celebrate the occasion more inclusively by avoiding any religious references.
An E-Card is better than no card
We understand, sometimes it can be difficult for struggling businesses to afford  sending a physical holiday card to everyone in their contacts or in case you somehow missed up planning ahead of time – In these cases, you can send an email greeting wishing them the best. Though an E-Card would not evoke the same emotions as receiving a real one does, it is the least that you could do to show them you care.
Don't miss out the basics
The last thing you would want is to appear careless because of a misspelling or grammatical error. Proof-read and spell check the content/copy of your card not once, not twice but thrice before printing the cards. At last, never ignore basic practices like making sure names are spelled correctly, addresses are up to date, and there are no duplicate entries.
Happy sending..!
We offer a wide range of holiday cards that you can order and customize online at an affordable price. Feel free to check them out.