The internet has permanently changed how marketing works. And while there's no way to avoid the digital means, it would be absurd to say that digital marketing means such as blog posts, videos, or social networks are the only effective content marketing methods in today's world. Same as retro styles used in fashion and interior design industries; print marketing is as effective as its digital counterparts.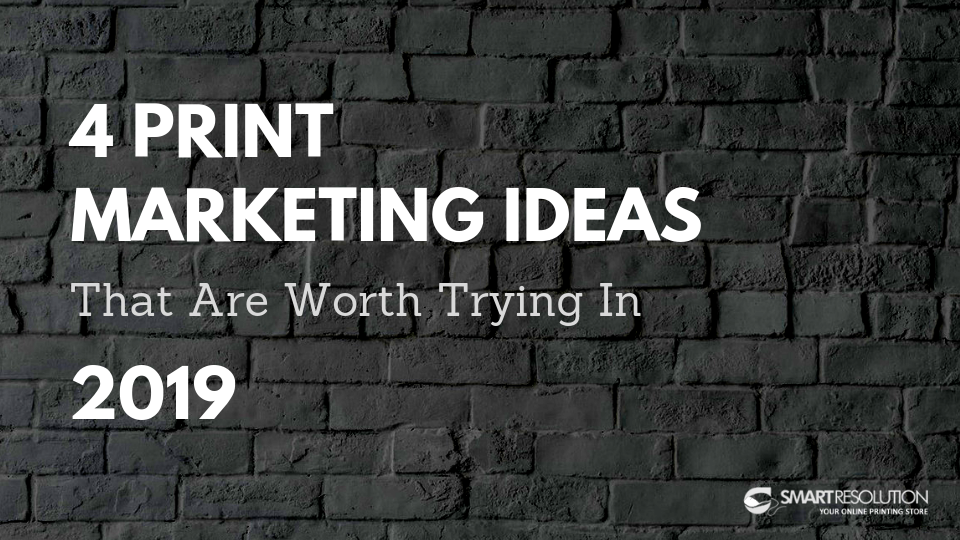 There are a lot of print marketing methods available in the market. You need to carefully choose a specific type of print marketing method to invest in order to be successful.
By using the proper marketing strategy, you can effectively reach and engage a focused audience. Know how these 4 print marketing materials will help you improve your business drastically.
1. Postcards
Postcards are among the most overseen, yet effective print marketing strategies in recent times. They are highly cost-efficient to print – you can get 1,000 double-side printed color postcards from Smart Resolution for under $55 – and they're easy to send out. You can send them by mail, place inside bags, include along with brochures, or simply place in a reception area. Postcards are really cost-efficient and versatile by nature.
2. Brochures
When it comes to tradeshows or giving a presentation, giving out brochures or pamphlets provides your audience with something to interact with during and after the event. And a lot like postcards, brochures and pamphlets can be printed for cents on the dollar. They can even be used for various other situations and events.
3. Magazines
Finding a way to get your business featured on digital means like a website or blog is getting more and more difficult. Such blogs and websites receive a lot of requests so it's possible that yours might even go unnoticed.
Magazines, however, are often searching for newsworthy stories to publish. Try reaching out to various magazines and other print mediums that belong to your industry circle and see if they're interested in doing a feature story on your business. If you have a persuasive storyline, you might even get featured on the cover!
4. Billboards
When you're traveling through the interstate highways, your attention will often be drawn to billboards. You most likely aren't self-aware of their existence, but the visual will be etched into your memory. The great thing about billboards is that they cost surprisingly less and can make a big noise. Consult with some local advertising companies in your neighborhood and think of designing a billboard to concur with significant campaigns and product launches.
Conclusion
Print media grasps a different characteristic of the marketing blend than digital media, yet it is a surprisingly helpful medium for businesses and brands.
The primary element of a successful print marketing strategy is an impressive graphic design. Invest some quality time conceiving your ideas before they hit the graphic designer's table.
With captivating colors, stunning visuals and top-quality materials, you can make sure that your print moves to the desktop, not down the trash can!