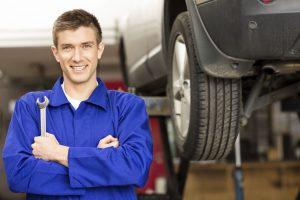 Many people don't realize that being an auto repair specialist really hones the mechanical mind. It goes far beyond just knowing transmissions and engines. It is about knowing every single detail that is specific to each make and model.  From re-coding passwords, to lug bolts, and oil drain plugs. The list of knowledge is endless.
What you need in order to  allow each auto repair shop to function goes beyond just cars and tools. There are so many intricate details that need to be considered and to be perfected before that first car goes up on the hoist.
Many print items are used daily in a mechanic's garage. They have become staples in efficiently running a business. These are part of the daily needs that allow the smooth and productive flow of the business to be executed. Beyond cars, tools, and gas.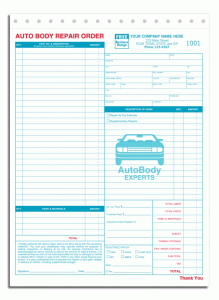 Let's start from the beginning. When a client enters a garage and requests service on their vehicle, what is the first step that is taken-the estimate and repair order form. This allows both the customer and the mechanic to outline the needs of the car and the driver.
Once the customer has agreed to the work that needs to be done, the key is taken in order to allow the mechanic access to the car during service. To ensure that keys are organized and properly handled, a key tag is then attached to the key. These can be printed with your business name on the front, and allow for car                                                     information on the back.
The mechanic then orders any necessary parts required for the job.  An auto parts order form that has your information printed on the front makes for a much  more professional image.
The work then commences. The time of pick up is arranged, and the customer retains a copy of the original contract/order form.
There are various options that a mechanic can choose to achieve that added touch that can be made unique to their specific shop. Perhaps printed car floor mats in the front and passenger seat. These can serve as a reminder to the customer as to the pleasurable (hopefully) service that they received. It can also prompt them to return when necessary and refer.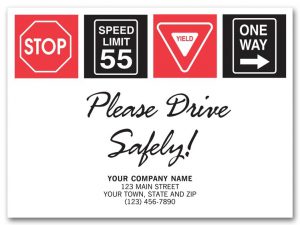 The idea of a promotional product to offer to each client once service is done is also a handy little marketing tool that can be used to strengthen a relationship between customer and mechanic. You can present the customer with the standard pen or pad with your company name and business info printed on it for easy reminders. Alternatively for bigger jobs, you may venture out and provide an after gift that may be unique to your business only. Something to the effect of a printed water bottle  or a practical shopping tote bag. The ideas are quite continual.
There are so many moving parts that go into making any business a working machine. It's important to take all things into consideration in order to effectively execute the vision of any business.  Printing plays such an important role, so your printing company should be one you trust.