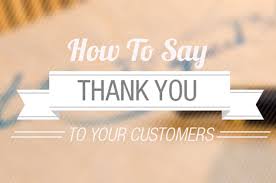 It's quite a disclosed fact that showing your customers love is a crucial part of business and brand building. It allows your customers to fancy building a connection with you as well as allows you to show your commitment to them in return.
There is no such thing as showing your customers too much patriotism. It will always be pleasantly received. It is invariably about the little things. Showing appreciation doesn't have to be a huge spectacle. Simplicity is key.
Offer Your Customers Notoriety: A smart way to enhance your catalog,  printed newsletter, or blog following is by featuring the very customers who read it. Choose 1 or maybe 3 of your best clients monthly and write about them and their contributions. This generates interest in your work as well as offers your customers a sense of fulfillment.        
Print Discount Cards: Sending a little something extra to a client after a sale has been made is a very smart and savvy way to market. It offers your customers incentive to return and builds brand loyalty. Send a business card with a discount promo code or detachable coupon to drive future sales.
Loyalty and Reward Cards: Incentive. Incentive. Incentive. Offering your customer a complimentary purchase after a certain number of purchases has been reached is a wonderful way to allow customers experience all that your business has to offer. 
Want to take advantage of these and much more for your business? High Standard Printing can be found at www.smartresolution.com. You are just clicks away from high quality print.