Impress the Press: How to Create a Media Kit
Media or press kits are commonly used promotional tools when a company wants to make an announcement or introduce clients to themselves. Media kits can have several components that range from the standard business card to multimedia discs. The key to making a successful press kit is making sure each item is cohesive and reflects your personal brand.
Whether it be using the same color or the repeating of your logo, each item of the press kit should tie together. Full color and custom printing is a great way to create brand awareness while giving each piece in your media kit a professional image. To explain how these printed products can be used, I will give you an example.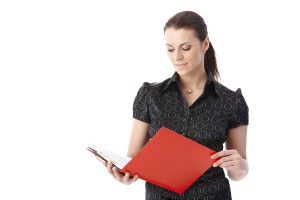 EXAMPLE: A grocery retail chain is introducing a new line of products under their own label. Press, customers, and stakeholders are invited to an event at the location of the first store. In order to inform the attendees of the purpose of the event each of them will get a media kit.
The media kit should contain:
1. First you will need a FOLDER to contain all of your information. Full color folders will create high quality and professional image that will set the branding and trend for the rest of the contents of the media kit.
2. Utilize the slots placed on the inside tabs of your folder by displaying a BUSINESS CARD there. Make sure the card matches the folders and correspond with the pages inside. The business card should be for the person who is in charge of media relations. Make it convenient for media sources to contact you for more information to add to their stories.
3. At the front of each media kit there should be a letter introducing yourself, and the reason they are there. This LETTER OF INTRODUCTION is a great opportunity to use your custom printed letterhead. This letter should match the branding on the folder and business card with corresponding logos and colors.
4. A "BACKGROUNDER" which provides attendees with an insight into the history of the company. It should include the year and place it was founded in, major milestones and accomplishments, as well as earnings depending on the audience. The "backgrounder" can also include bios of the chief officers or anyone of importance to the release of this product.
5. A MEDIA ANNOUNCEMENT for the event describing the schedule, list of any guest speakers, or any other exciting activities including photo opportunities.
6. In this scenario, products are being introduced. It is important to include anything that will help the press in reporting this story. Including a REVIEW of the new products as well as SAMPLES will not only help reporters form their own opinion, but give them an insight into the consumer's opinion.
7. Media kits should include PRESS RELEASES about the products or event. Press releases should be in the proper format to be submitted directly to a news source for reporting as is. This allows for a company to promote their product in their own words with minimal editing from third parties.
8. Previous ARTICLES written about your company as well as an example of one written about your new product will aid reporters and promote your company. Stakeholders will enjoy seeing information that has been reported about the company before.
9. However, it may not be enough these days to just give a physical copy of a media kit. Adding a COMPACT DISC or USB KEY filled with files may be the difference between getting a story written about your product or not. You can include a digital version of all the media kit items, as well as a camera ready logo or any other files that may be beneficial to the media. Connect your disc to your branding by using custom printed full color labels.
The most important part of your media kit will be CREATIVITY. Try to think outside the box, and come up with attention grabbing ways to inform the press.