Business cards aside, flyers and brochures are the two most favoured printed pieces available today. In terms of functionality, they typically both perform the same task: Getting your desired message out to the people in a fun, succinct way. One is just more concise than the other.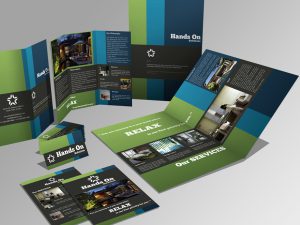 What is a Flyer?
A flyer is typically a single, unfolded printed sheet that is used to attract contemplation to a certain event, idea, or product.  They are generally distributed by hand, but can also be direct mailed. Full color printing is almost always the way to go with flyers as they portray a perfect image of the product or idea you wish to evoke.
Flyers generally have a much shorter life span than other forms of advertising as they are typically read only once or twice. For a more important announcement or heftier information that will be referred to again, the flyer can be printed on thicker stock for durability.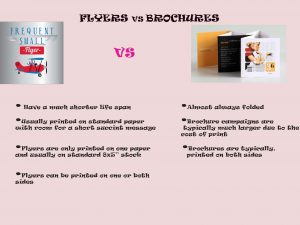 What is a Brochure?
Like it's counterpart, the flyer, the brochure has many of the same traits. They are printed ideas that are used to inform customers of an upcoming or current promotion or event. Unlike flyers, they are always folded to create multiple panels of pages.
Flyers are generally printed on standard 8.5×11″ paper, but brochures carry no specific dimensions. It's based on the whim and ideas of your marketing strategy.  Brochures are meant to be kept around and referred to often.  Again, as in flyers, full color is encouraged with brochures as well to ensure that your message stands out and is sharp. Brochures are usually not sent out as direct mailings or handed out at trade shows and such. This is due to the higher cost of printing. They are reserved for those who have shown interest in a certain product or service and would like to know more.
Needless to say, the flyer and brochure are the most widely used marketing tools available today. Their versatility allows them to be used by any business or organization. If you are thinking about promoting your business via flyers, brochures, or any other marketing tool, contact us. We can help assist you in the design and layout of your marketing materials.
https://www.smartresolution.com/