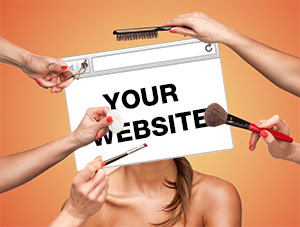 Who wouldn't love to revamp their otherwise dreary site and have it magically re-appear as a traffic magnet that people just can't get enough of? A website so phenomenal that people sleep and wake just dreaming of the next time they'll visit? Dare to dream! Unfortunately, not many of us have the time or the resources to commit to such major renovations, so, since you and your wallet are both very important to us, we'd like to help you by offering some no-to-minimally-low-cost options to give your web spot a fresh new face. Jut some insight into the kind of selfless people we are.
Fatten up Your Fonts 
We live in a Google world. A world where any outrageous, wonderfully hideous thing that pops into your mind has popped into the minds of other scandalous users at least 987483 times before. Simply type Best Google Fonts  or Best Google Font Combinations into that oh-so-inviting search bar to find a font that best suits your site. Things like resolution, and gleaming new fonts help make your site more attractive than ever! Watch out world!
Rehab your Images
Social media consumes us. We learn (and unlearn) everything via social media. If you take a second to think about how many times a day your social media feed flashes near seizures on your screen, imagine the same for everyone else in the world- especially potential clients and networks.  That's why sometimes, we all need a little rehab. Our images are what define us- as a company, as a brand, or just as an eager school bus driver who loves taking pictures of pugs. Using the same dreary images over and over can really diminish your presence and your impact. In very little time you can re-stock your stock photos and voila! A fresh new brand is born.
Head Butt Your Old Header
So, you built your website a few years ago, and at the time, it looked fantabulous! The pictures and the headers were exactly what you were aiming for when trying to represent yourself and your brand. Now, you have approached "what was I thinking?!" road. You have grown up, as has your website, and it's time to go for the mature and sophisticated look. Once you have updated your social media images, this one should be a breeze. Try and center in on who you are today, and who your target is. Your new you will thank you.
Say Cheese!
There is nothing we love more than seeing homemade images of employees giving us real stories about their real lives in this otherwise unreal digital world. Have a "Selfie Social." Have your employees take head shots and write little excerpts about why working for you is the best thing that has happened to them since… well, since birth!  Potential and current customers love to see that you are a company that cares about their people. Warmth spreads.
Color Conversion
When you first built your website, your google website creator offered you 2 or 3 colors that were all the rage! Everyone was doing it, so why shouldn't you? Here you are, a few years later, and your color are starting to fade. Blow some life into those 2 dismal colors that have managed to dissolve every ounce of life that your site had. Add some rouge to those cheeks, and some gloss to those lips for a hot-off-the-press look and feel.
Trim the Tree
This is a crucial one. You may have old posts that are completely irrelevant to today's times. Your post in 2002 about the rising price of gas may not be as pertinent to your client base today as it was then. Get rid of old outdated posts and keep your stock relevant. That way you are always showing your best side. Keep your not-so-best side for in-laws and people who steal your parking space.
It's much easier than you think to give your website a mini face lift to reveal the younger, fresher face you've always wanted. Revamp, renew, and good luck!
Feel free to add any comments or suggestions. Your feedback is always welcome!