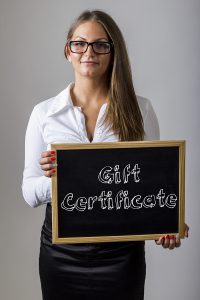 Whether you own a flower shop, a photography studio, a variety store, or a hair/nail salon, every small business should offer some kind of gift certificate program. From restauranteurs, to bakers, to any retail space, finding the right certificate lineup and running the most suitable program for your business is key.  Incentive programs can be a powerful way for smaller companies to compete in today's ever-evolving marketplace.
Obviously, the biggest reason for starting a gift card program is to increase sales.  Customers shopping with gift cards are less price-sensitive than those shopping with cash. Customers tend to spend more than the card's value when shopping with gift cards or certificates. Many gift certificate recipients also shop at a store they wouldn't normally shop at.  The gift card/certificate program is guaranteed to bring in at least 2 shoppers- the giver and the receiver
The holiday season is always fast approaching. In an instant, customers are scrambling to find that perfect gift for that special someone. Don't wait until the holidays to introduce a gift certificate program to your small town shop or online business. You're better to start a gift card/certificate program now, well before the holidays to work out any kinks and train staff accordingly. When the holidays do come, you'll run like a well-oiled machine. Be sure to advertise to all of your customers that you have a program available. Don't leave the certificates hidden behind the cash in a dusty old metal box. Display them, upsell them, highlight their benefits.
Benefits of a Gift Certificate Program:
Gift Certificate Programs can introduce your customers to products/services they may not have known that you carry
Gift Certificates help your business get noticed
Easy gifts for hard to please family and friends
There are various options to enhance the look of your certificate- foil embossing, coloured packaging, various styles
Affordable way to retain and create customer loyalty
Smaller businesses can take advantage of loyalty programs, but they must be ready to implement them creatively and aggressively. Talk to your customers about them. Especially your loyal ones. If they love you, they'll want to share that affection with others. Don't miss an opportunity to get word of mouth advertising.
The packaging of your gift certificates can also be an attractive selling feature. Gift certificates can be packaged as great things in neat little packages. Colorful envelopes, or wrapping can engage the customer and entice them to share with others.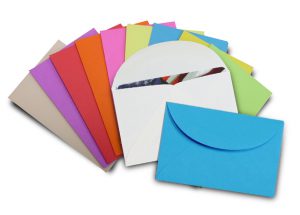 Another advantage of the certificate/card program is that you are able to collect information about the gift giver. Use that opportunity to sign them up for your email newsletter, email promotions, etc.
Most importantly, you have to ensure that your gift certificate is printed on quality stock and ensure that details and expiration dates are clearly printed. At Smart Resolution, we customize your gift certificate to fit your needs.
Visit www.smartresolution.com for some gift certificate ideas.