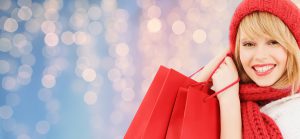 Summer has barely ended, and we're already throwing Holiday tips at you. Where is the mercy? Well, if you are a small business owner, you know that preparing your business for the Holidays is a task that must be taken on earlier rather than later. Ensuring that your business is qualified to navigate through the Holiday rush can make all the difference to your bottom line, not to mention your sanity.  We have a few pointers to share with you to help you feel wonderful during the most wonderful time of the year.
First things first: Is your Social Media presence strong enough?
During the Holidays, and for obvious reasons, businesses everywhere tend to ramp up their social media presence to ensure that they stay competitive with all of the other companies out there. If your company offers things like gift cards, this would be the right time to promote them. When it comes to the Holidays, the 3 P's are always important- Promote, Promote, Promote. If your Social Media page can use some freshening up, start freshening.
Pre-Holiday Promotion: If you haven't started offering pre-holiday promotions to your clients (we hope you've already started,) then you'd better get a move-on!  When you offer promotions leading up to the holidays, you're getting your customers engaged and excited. It also gives your clients a good sense of what you have to offer and which of your products works for them.
Inventory and Staff: Are you prepared for the rush? Ensure that you are staffed to handle the increase in business. Your inventory should be replenished and fully stocked in order to be able to fulfill the overflow of business coming your way.
Stellar Customer Service: Make any necessary changes or hires to be able to handle the seasonal sweep. During this busy time, your clients will be just as busy as your are. Ensure that you have the correct staff answering the phones, and helping your customers with all of their needs. A pleasant voice over the phone allows for a pleasant experience all around.
Ensure your website can be  easily navigated: If you run an e-commerce business, a few tips may help ease the holiday blitz. Test your checkout process to confirm that  it can handle more than usual traffic. Ensure that your customer service number is in plain view for those customers who are clicking through your site. Assure your customers that your website is secure by clearly indicating the existence of an SSL Certificate so that your customers feel safe.
Don't forget about the Post Holiday Rush: So much emphasis is put on the period leading up to the Holidays, that sometimes the Post Holidays can be overlooked. Many people forgot about this very important time. Make sure you have a returns policy in place. A quick course for your employees to be able to sell an alternate product to those customers that are returning can be very helpful and lucrative.
Polish Your Holiday Marketing Campaign: Email  Marketing can really work in your favor during this busy season. Delivering things like Christmas sales, key offers, directly to your client's inboxes eases them out of the Holiday Stress. Offer promotions to your loyal customers as a thank you for their loyalty. Distributing gifts and Holiday Promotional Products to your customers serves as efficient tactile marketing.
The Holidays can be a bit of a daunting time if you're not prepared. Taking the necessary steps early can be the difference between pulling your hair out in utter exhaustion, or skipping through the hallways singing Christmas Carols. A few tweaks can make all of the difference.