Your Guide to Ordering: Carbonless Forms

You know those generic forms you have been using everyday that have fields you never fill out or don't align with your software? You know which forms I'm talking about. It may be time to update the forms you use in your daily business transactions in a way that reflects your brand and adds to efficiency.
When ordering forms for your company, there are many things to consider. The key quality of carbonless forms is their convenience and versatility. It's important to think of all of the ways a form can increase productivity and avoid mistakes and misunderstandings. The first step is to define the purpose of the form.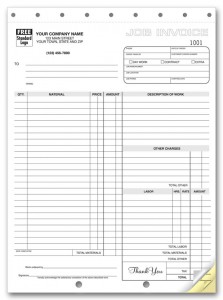 Let's use the example of an invoice:
Once you know what the forms are being used for, you can consider HOW they are going to be used.
The size of the form will affect its:
Portability – If it needs to be taken to job sites or fit in a glove compartment.
Information Recording – If your business requires large amounts of information to be recorded in order for the invoice to be issued, consider increasing the size of the form to allow enough room for additional comments.
Organization – Consider how you plan to distribute and organize the original and the copies. Consider your filing system and what may be most convenient for you and your customers or clients.
Carbonless forms can either be written on manually or can be printed on a dot-matrix or tractor feed printer. Manual forms can be bound in a book or kept loose in a snapset or glued edge format. Depending on the technology you have and the way you plan to organize your invoices, you will want your forms bound differently. Snapsets have a half inch stub that you detach when all copies are filled out, as opposed to glued-edge forms which you just pull apart when done writing.
Designing an invoice
To order a custom invoice, you will need to provide the artwork that will be printed on your carbonless forms. The design of your form must be the same size as the product you are ordering and should be at least 300 dpi (dots per inch) in resolution. This is your opportunity to have a complete product with all of the information you need. Make sure to include all of the contact information, terms and conditions, instructions, check boxes and fields you may need on your form. If you plan to have your logo on the invoice, provide a high resolution image of the logo as well. By providing high quality artwork and going through the proofing process, your printing company can insure that you are getting the product you need.
Using a pre-formatted invoice
This not only saves time originally, it saves you some money as well. Many printing companies will offer forms that are pre-printed in bulk which you can personalize with your own information later on. This is the fastest and most affordable option if you are looking to get multi-copy invoices in no time. A customized invoice will obviously look more professional than a generic one.
Next thing to consider is the number of upgrades and additions you can add to your forms that may increase the price:
How many copies will you need, and do you need to specify which copy goes to which recipient? Typically these forms come with one original and up to four copies.
Do your invoices need to be numbered so that they are easier to keep track of?
How many ink colors would you like on your invoices?
Do you need holes punched for placing the forms in a ring binder?
Do you need a part of your form to be removable for a receipt or a coupon?
To save room on the front, do you need to print terms and conditions on the back of one or more pages?
Do you need your forms to align with a specific software? You may need to provide your printing company with an x-print, which is a sheet that is printed from your software with xxx's in all fields.
After asking yourself these questions, you can become a smarter shopper and ask your printing company for the appropriate advice and quote. Be sure to ask about discounts, loyalty programs or any other product that may be useful to your business.
To order carbonless forms online, check out Smart Resolution's business forms