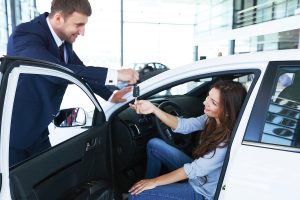 Whether you have had an awful past experience, or are a little nervous about your first-time car buy, finding a car dealership to meet (and hopefully exceed) all of your needs can alleviate much of that buyer's apprehension.
It's crucial to recognize that dealerships today, are not only in the car business, they are first and foremost in the people business.  The importance lies in finding a dealership you trust, has a stellar reputation, and that makes you feel comfortable.  Whether your experience with them has been via phone, email, or in person. Your relationship should be a long-lasting one, as you will be servicing your vehicle there, and most likely doing business in the future as well.
In the archaic days of pre-internet shopping, consumers were essentially at the mercy of the dealership. The dealer held all the cards as they were the one "educating" the consumer, and chose what to and not to disclose. The only thing the consumer knew for sure was what their neighbor paid for their car, or at least what they were told they paid for the car. Hence a handful of dealers who took advantage of innocent buyers tainted the reputation of all dealers and dealerships.
Finding an Excellent Dealer
How does a consumer, such as yourself, who has done all of the necessary research, find a dealer that is honest, fair, and reliable? Simple, stick to the pros.
Look for Longevity: We all know that dealerships come and go at an alarming rate. Although you may be tempted to go to the "little place" around the corner from your house, as they are boasting unbelievable sales, stick to a dealership that has been in business for an enduring amount of time. Make sure they will still be around in the future, should you need service or other assistance.
Stellar Customer Service: There is nothing worse than shopping for an important purchase such as a vehicle and being completely turned off by a sales person. Ensure that the staff at the dealership you choose treat you with courtesy and respect. If this does not occur, regroup, and find another place to shop.
BBB:  Do your research and check out your chosen dealership on BBB. Read the reviews, and also read the resolutions that the dealership offers. This will help you decide whether said dealership really cares about their customer's satisfaction.
Facility: Dealerships should take pride in their showroom and their lot. Look for a dealership that displays their vehicles in an attractive manner, as well as offers an inviting showroom.
Services: Find out if the dealership offers services you  may need in the future. Things like loaner cars, shuttle service, warranty, etc.
Management: Get to know the manager. Ensure the manager is gracious, and answers any questions you may have. Build a strong foundation.
A vehicle purchase is one of the biggest purchases a consumer makes in their lifetime. It is imperative that you shop around, ask around, and find a dealership that meets your criteria.  Things always change in the car industry, the best thing you can do to make this experience a positive one is to be well informed.