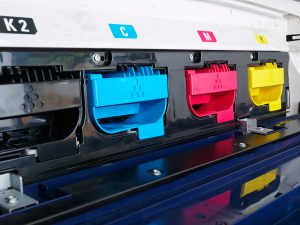 When it comes to having your products professionally printed, occasionally,  your ideas can get lost in translation. The spectrum of available options can be daunting. Do you require a custom project, or will something pre-printed be sufficient? What exactly is custom? We've created this blog to help you decipher the differences and decide what the perfect option is for your next printing job.
When to use full color printed products?
Most people will recognize a full color project long before they have read any text. Full color is perfect for those that are looking to have their products stand out. Contrary to popular belief, full color is quite affordable and uncomplicated. It is an ideal option for those who already have artwork designed and would like to have it replicated onto their printing project or anyone willing to work with a graphic designer. Likewise, if you're looking to brighten up your logo or add some more color to your jobs, then full color would be ideal.  Full color is defined by the possibility to use ANY and ALL colors your design requires. Whether you are making a bold statement on your business card, or a letterhead that boasts your company's image, the full color printing process will serve your purposes superbly.
When is a pre-printed product sufficient?
Most of Smart Resolution's products are pre-printed, extremely effortless to set up and affordable. Simply put- what you see is what you get. These items that you customize online are perfect for those small businesses that require printed items that conform to industry standards with minimal effort.
Why use custom printed products? 
Occasionally, what is readily available conforms to your needs, but not explicitly. There may be some adjustments required to match your specifications. Perhaps your logo requires more than one color, your forms require additional information, or your project entails different items printed on various pages.  Custom printing, simply put, upgrades Smart Resolution's pre-printed products with the changes you desire to accommodate your needs. It offers much by way of flexibility and precision. Your chosen artwork and spot colors can be precisely replicated – simply and economically.
Striving to offer affordable print solutions to your small business is not only our expertise, but also our pleasure. Your next print run will be fluid with a distinct understanding of the options available. Check us out for more details: