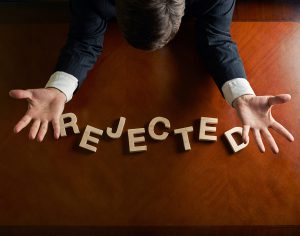 The word No. A feeling that is dreadful to hear. Regardless of the situation or context, the concept of rejection is one that is difficult to ingest. Unless, you make it work FOR you, as opposed to AGAINST you.  Studies have shown that the pain of rejection does not differ from the pain of physical injury. Not to mention the affect it has on a person's psychological state.  
Every entrepreneur who is successful or even slightly climbing up the proverbial hill of success will tell you, they are no stranger to rejection. No matter how resilient one is, rejection still hurts. Your course of reaction to the action of rejection is the most critical. How do you keep yourself focused on the task at hand, and not at the easier, more effortless approach- giving up? Simple- Let that rejection constantly ogle you in the face.  Don't cower behind it, tower over it.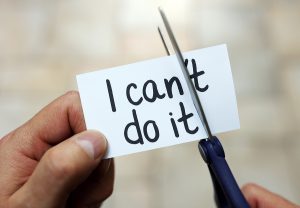 Staying optimistic about rejection:
Keep the Hunger Alive. Although rejection can be hard to stomach, it can also solidify your purpose. It may also help you see that your intentions may need a little bit of tweaking.
In Your Face. Keep those nasty rejection letters hung high. Hang them over your desk, on the ceiling in your office, anywhere that will serve as a constant reminder of the extra work                                                                         you should put in to achieve the results you desire.
Toughen Up, Buttercup. Having thin skin can only be counterproductive when you are pitching an idea for a business. Not everyone is going to think that you are as brilliant as you think you are. You must learn to wade through the negative remarks and refusals and allow them to bounce off of you.
Be Your Best Friend.  Don't be too hard on yourself. You can be your own worst enemy. Come to terms with the fact that rejection can only make you weaker if you let it. Never regret.
Ultimately, everyone will fail at some point in their lives or their careers. The essence of the matter is learning how to fail well.

https://www.smartresolution.com/