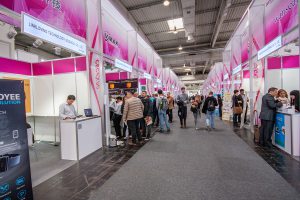 You never get a second chance to make a first impression. When it comes to trade shows, this quote is excessively applicable. Although cliché and an old familiar tune, this saying should be your adage for all trade show booth and staff.
A trade show is a constant sequence of openings. From the minute it begins until the minute the lights blink signalling the end, is a learn-able networking moment. You are invariably meeting, greeting and introducing yourself and your business to prospective clients. Accordingly, if you haven't set yourself up to be in a position of a positive first impact, you could be missing out on a wealth of quality business. Here's what you need to know about making your trade show a resounding success.
Your SWAG matters. Sure, it's cool to give away flying drones and expensive sweatshirts, but the importance and pull of swag is to generate a need rather than a want. Educate your clients' interest into their needs. Interest without need really becomes a waste of time. Intriguing and necessary products have a much longer shelf life as well as are constantly retained.
What are you selling? Whether your company sells cellulose sponges or luxury private jet products, what you are selling at the trade show is YOU. Buyers are almost always nervous. They are wary of you and what you are trying to sell them. It isn't always easy for customers to "trust their instinct" when it comes to new products and services. At the same time that you are assessing them and their needs, your customers are doing the exact same to you. Be memorable, smart and relevant. It's always crucial to remember that your customers are buying you before they can buy your products.
Cross over the wall of noise. Engage engage engage! You have to be proactive and approach the attendees. Welcome them to your booth, explain what you are doing and what you can do for them. Talking is influential, but listening is much more imperative. Let the customer know that you hear them and that you are ready to answer their questions.
Respond quickly. You should have every rep that is working your booth busy scanning business cards and getting appointments set up on the spot. Have a business card scanner on hand to make this process flow seamlessly.
Setting these as a precedent for your future trade shows will give you good standing within the trade show environment. It's central to first and foremost to create a first positive impression. Keep your body language in check and always be cognizant of how your reaction is affecting those to whom you are speaking. Your profitable relationships are well under way to beginning. But for now, if we can help you get those business cards in your hands so you may focus on your upcoming tradeshow, look no further: