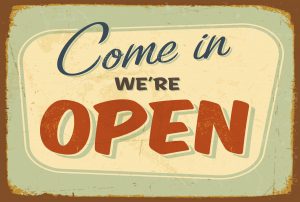 So you've decided to open a restaurant. To most, it seems glamorous. Behind the scenes, the amount of work that goes in from conception to construction may be daunting. Ask any restaurant owner and they will tell you the long hours and the hard work are just a fraction of the exertion that goes into it.   Of course, there's the obvious. The things that we all know go into opening a restaurant. From the tables and chairs, to the silverware. It is imperative to understand all of the dimensions of the restaurant business and what each undertaking will be.
When "print" and "restaurant" are mentioned in the same sentence, the mind automatically defaults to menus and signage. Those are naturally factored into the equation when deciding how important print is to your business. There are, though, a few underlying items that are fundamental in the successful running of your restaurant.  Let's look at some of these:
Custom Printed Checks- These are necessary for both paying your employees, as well as paying any invoices that your restaurant incurs. You can get them printed with your company information to make dispersing easier and efficient.
Custom Printed Receipts- Perfect for your wait staff to keep a log of what was ordered from each table to ensure productivity.
Custom Printed Sales Books- Ideal for the take-out counter. They come with a carbon copy that you can just slip into your files to keep everything organized.
Receipt Books- They are optimal for keeping all of your receipts in one place and still being able to give the customer the receipt for their purchase.
Call Logs or Appointment Books- Naturally, reservations are encouraged. Have a call log or appointment book set by each phone to ensure that every call gets the attention it deserves.
Gift Certificates- These are quintessential in spreading the news about your new restaurant that everyone "must try." Introduce them to your existing customers, to share them with ones you haven't met yet.
Certainly, the design of your menus is crucial. Be sure to use a printing company that offers this service and can work with your vision to create your ideal menu. When you sit down to write your menu, consider item description and page layout, as well as price.
Ultimately, the restaurant industry can be an extremely rewarding one, when preparations and prospective setbacks are all planned for accordingly.  Bon Appetit.